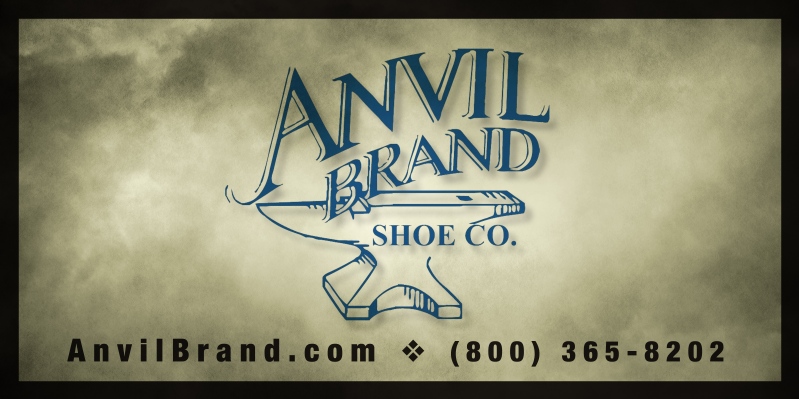 ANVIL BRAND SHOE COMPANY
"Every equine product we carry is inspected by active farriers; we agree - "No hoof, no horse" and are sure to manufacture and sell the best horseshoeing supplies and hoofcare products possible. We understand the needs of our equine customers: whether you need farrier tools, anvils, blacksmith supplies, horseshoeing supplies or hoof care and horse products. We stand behind every equine product we sell, and we offer the best price around! Anvil Brand has been manufacturing horseshoes, farrier tools and hoofcare products since 1978. We have horseshoes and hoofcare products on the Budweiser Clydesdales, Sea World and Disney horses, and famous hitches belonging to Express Personnel, Ames Construction and the Heinz hitch. Our reputation for quality products and superior service is unsurpassed. We simply are the World's Best Hoofcare Store™."
"Founded in 2001 on Historic Long Island in the heart of Center Moriches, Blue Ribbon Farrier Supplies, Inc. is a full service farrier supply shop, carrying a wide variety of horseshoes, farrier tools, and hoof care products for both professional farriers and horse owners. Owner Susan Gwen is the hands-on face of Blue Ribbon."

"
Founded in 1960, Centaur Forge is the oldest supplier of Blacksmith and Farrier products in North America. We welcome you to visit either of our store locations in Burlington, Wisconsin or Austin, Texas. If you are not close to one of our stores, you can place your order on-line or phone in your order. With our $8.95 Flat Rate Shipping, all our US customers have the same shipping cost whether they live in Honolulu, Anchorage, Seattle, Miami, San Diego, New York or Chicago. Customers within the Continental US can get Free Shipping on eligible orders of $250.00 or more. These low cost shipping policies prevent nasty surprises when you go to check out on our web site. This is particularly important when you are ordering heavy and/or bulky products like anvils, forges and horseshoes. With a north and south location to ship from we, on average, can ship faster to all locations in the USA."
"Crossroads Farrier Supply is owned and operated by two previously full time farriers, Anita Leckie APF and John Turner APF. We now alternate days in the store with days shoeing. Though we have not used every product in the store, we have used quite a few, and are happy to answer questions."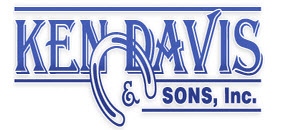 KEN DAVIS & SONS INC.
367 East Blagrove Street, Richwood, OH 43344
Phone: 740-943-2335 or 800-421-3109
Email:

info@ken-davis.com


Web:

www.ken-davis.com


AAPF/IAPF Members: Brian or Gina Davis
"Ken Davis and Sons, Inc. has been serving the farrier industry since 1954. We are located approximately 45 miles northwest of Columbus, Ohio. We carry all major brands of horseshoes, horseshoeing tools, and hoof related supplies. Please e-mail any comments and suggestions to info@ken-davis.com or give us a call at (800) 421-3109. We look forward to hearing from you!"
DUGGAN FARRIER SUPPLIES
"Duggan Farrier Supply was established in 1973 to meet the needs of farriers in Minnesota. Over the years we have developed into a full line professional farrier supply store, shipping to all areas of the United States as well. Several years ago we added a mobile store where we service Canterbury Park Racetrack once a week. You can also see us at regional horse expo's where we have a booth. We are a family owned business employing the second generation of Duggan's to help you. We also operate the Minnesota School of Horseshoeing where we teach beginning students the ground work for becoming a successful horseshoer. Check out the school website if you are interested in attending either our 2 week program for horse owners or our 10 week professional program. You will find our Online Catalog user friendly. You are always welcome to place an order by phone if you uncomfortable using the internet, or place an order by fax. "

EAST COAST HORSESHOE SUPPLY CO.
131 Regur Road, Hawkinsville, GA 31036
Phone: (478) 783-2420
Email: horseshoetrader@yahoo.com
Web: www.eastcoasthorseshoe.com
AAPF/IAPF Member: Julie Lucas
"Located in Hawkinsville, Georgia, owner Julie L. Lucas and East Coast Horseshoes have been serving the horseshoeing industry as a supplier since 1999 and we continue to grow every year thanks to our great customers! Julie has been involved with horses most of her life, and has been in the harness horse racing industry as an owner, trainer, driver and in race track management. Julie also enjoys team roping. If you don't see what you need or need further information on an item, please don't hesitate to call us."
GENERAL BLACKSMITHING
1622 Scotch Line Road, RR 2, Elmira, Ontario N3B 2Z2 Canada
Phone: (519) 664-3007
AAPF/IAPF Member: Paul Martin APF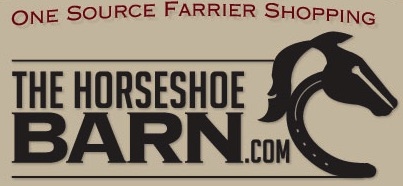 THE HORSESHOE BARN
1223 Blumenfeld Drive, Sacramento, CA 95815
Phone: (800) 338-BARN or (916) 925-6534
Email: horseshoebarn@sbcglobal.net
Web: www.TheHorseshoeBarn.com


AAPF/IAPF Member: Adam Wynbrandt APF
"Welcome to the Horseshoe Barn, All-Around Farrier Shopping... We have been serving the Farrier industry since 1976 and would like to take this opportunity to thank you, our customer, for your patronage. We truly appreciate your business. Living up to our motto, "All-Around Farrier Shopping", a large inventory of traditional and new supplies is always maintained at reasonable prices. Special orders are available on items not in our catalog or store. Watch for our free Horseshoeing Clinic in the Fall. We look forward to supplying your needs in the future."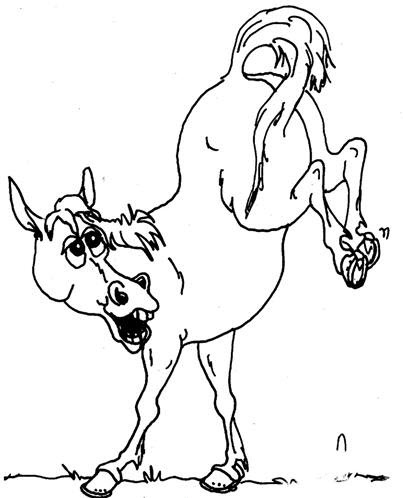 HORSESHOE MART
2100 Llano Road # 8, Santa Rosa, CA 95407
Phone: (707) 578-7320
Fax: (707) 578-0511
E-mail:

horsesho@sonic.net


Web:

www.HorseShoeMart.com


AAPF/IAPF Member: Selina Galick
"
We carry everything you need to shoe your horse. We also carry Easy Boot line for the horse owner. We are a full-service farrier supplier. We carry brands like St. Croix, Kerckhaert, Capewell, Mustad, Liberty, GE Forge & Tool. We have been serving our customers for 25 years."

HORSESHOES PLUS INC.
8 Oak Hill Road, Barrington, NH 03825
Phone: (800) 382-5434 or (603) 664-9064
Fax: (603) 664-5307
Email:

rcilley@horseshoesplus.com


Web:

www.horseshoesplus.com




AAPF/IAPF Members: Bruce and Rob Cilley
"

Horseshoes Plus is a farrier supply store located in Barrington, New Hampshire. We would like to thank you for visiting our website. Hopefully this will help guide you through some of the things that we can offer you. This site is not meant to replace a person to person experience, in fact we encourage people to call or stop in as often as possible. Please take a moment to look things over and call with any questions or comments. There are a couple very important things to note before going much further. If you are in New England, please call to find out if you are in one of our free direct delivery routes. Also we can't guarantee the site is updated every time there is a price change, so please call for the most current prices and inventory levels."
JACKSON FARRIER SUPPLIES INC.


7540 Brookville Road, Indianapolis, IN 46239
Phone: (317) 375-1735
Fax: (317) 375-1740
Email: jackson-farrier@sbcglobal.net
Web: www.thefarriershop.com


AAPF/IAPF Member: Barb & Dale Jackson APF
"Jackson Farrier Supplies is a family owned and operated horseshoer's supply store! We not only provide our customers with the best and latest tools and supplies, we're also seasoned farriers and equestrians! We pride ourselves in our knowledge and expertise. If you have any questions or challenges give us a call. We're here for you!"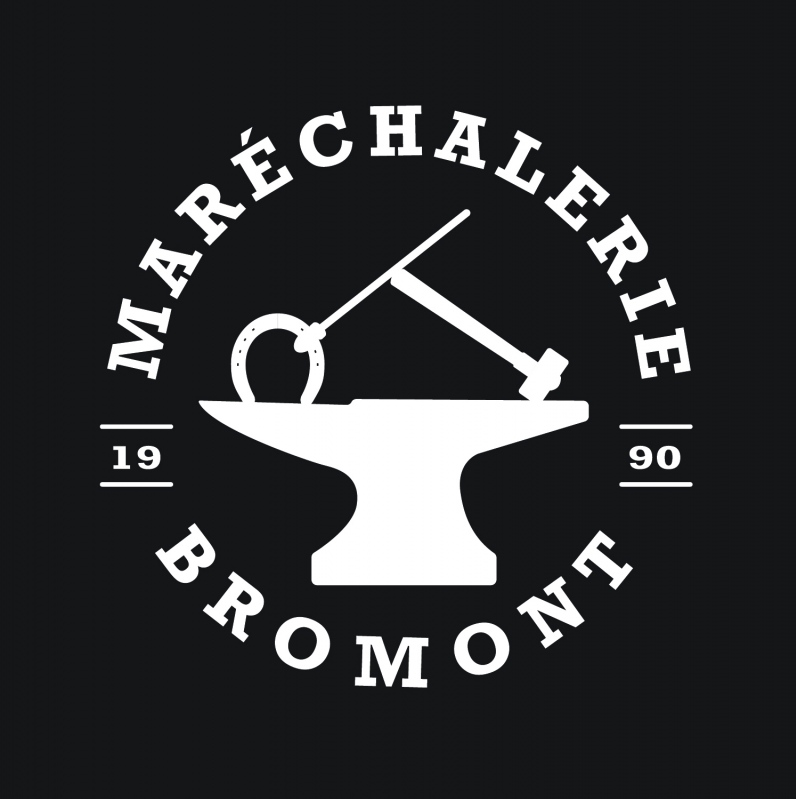 "Established in 1990, we have grown to become one of Canada's leading farrier suppliers. Here at Maréchalerie Bromont you will find a store that is large enough to fill all your farrier needs, yet small enough to provide personal service. We stock a complete range of horseshoeing supplies and equipment for farriers: horseshoes, nails, anvils, forges, hammers, nippers, rasps, aprons, studs, supplements and much more. Please feel free to contact us for any questions or to place an order.
"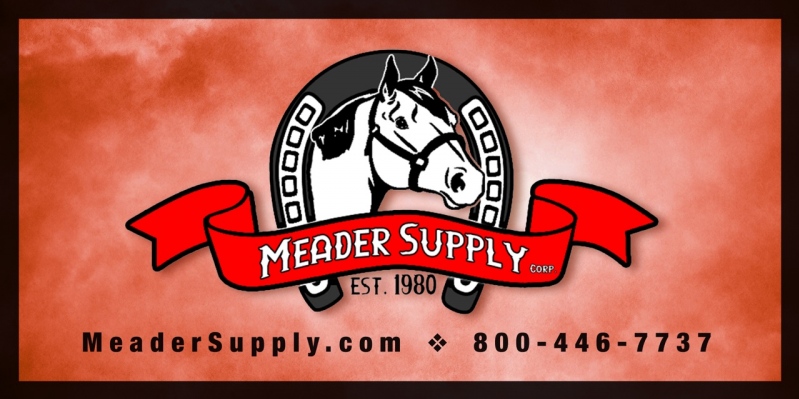 MEADER SUPPLY CORP.
23 Meaderboro Road, Rochester, NH 03867
Phone: (800) 446-7737
Fax: (603) 332-2775
Email: meader@meadersupply.com
Web: www.MeaderSupply.com
AAPF/IAPF Member: Christine Meader
"Meader Supply Corporation was founded mainly out of frustration at not being able to find the products we wanted and at the quality we demanded for our herd of registered Belgian Draft Horses. What began as a tack and harness store in 1983 quickly expanded to include farrier supplies as well. Today we are proud to be the largest farrier supply store in New England, serving farriers all across the country. Orders can be placed over the phone or online and are usually shipped the same day. We offer discounted shipping programs for full time farriers. Meader Supply holds an annual event the last Saturday of April with a free clinic and a discount on all supplies purchased that day. Please call for one of our catalogs or view it online. We look forward to serving you!"

MONETTA FARRIER SPECIALTIES, INC.


1755 Park Ave., Aiken, SC 29801
Phone: (803) 685-5101
Fax: (803) 685-5654
Email: sales@monettafarrier.com
Web: www.monettafarrier.com


AAPF/IAPF Members: Collins Daye, Alan Berardo CF APF & Emily Bull
"Monetta Farrier Specialities has established itself as a farrier specialties business that's known in many nooks and niches across the country for its warm personality and helpful customer service. Through lifetimes rooted in the equine industry, they have learned the ins and outs of shoeing horses and the tools and supplies needed to do the job."
ALTERNATE ADDRESS:
MONETTA FARRIER @ TRYON
190 Industrial Park Drive, Unit C, Columbus, NC 28722
Phone: (828) 894-0280
"Established in 1985, is owned and operated by Stephen Storms. Our store is located in southern New York State in the city of Port Jervis. Port Jervis is situated on the picturesque Delaware River in the area where New Jersey, Pennsylvania, and New York meet. Interstate 84 passes within a mile of our store."


NANRIC, INC.
131 S. Main Street
Lawrenceburg, KY 40342
Phone: (877) 462-6742
Fax: (502) 839-6766
E-mail: redden@nanric.com
Web: www.nanric.com
AAPF/IAPF Member: Shannon Redden
"
In 2001, NANRIC, a retail and on-line store, was established to provide a service link between Dr. Redden's innovative concepts and the many products that he routinely uses for his podiatry cases. NANRIC is owned by Dr. Ric and Nancy Redden, the former owners of Advance Equine and Kentucky Blacksmith Supply. Shannon Redden is the Marketing Director and Manager of the company. Our mission at NANRIC is to provide the ultimate care possible for your horse and exceptional customer service. As you browse through our website and the specialty products we offer, keep in mind that we are here to meet your needs. If there is an item you need and cannot find, call us toll-free at 877-462-6742. We will go the extra mile to find what you're looking for. We take pride in offering you high-quality products and the knowledge you need to use them."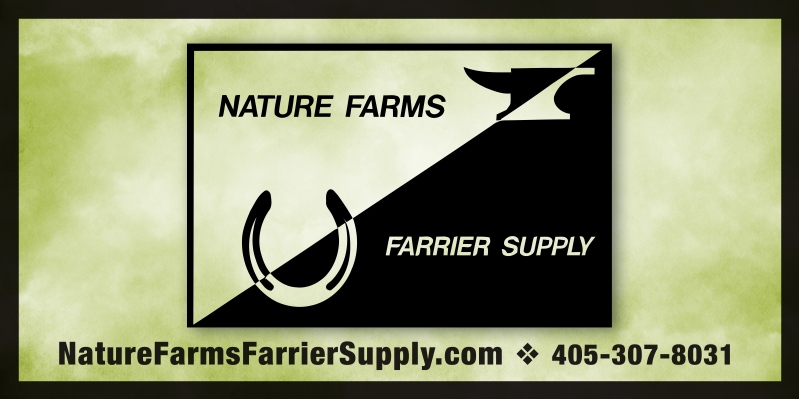 NATURE FARMS FARRIER SUPPLY
3541 National Drive
Norman, OK 73069
Phone: (405) 307-8031
Fax: (405) 307-7699
E-mail: naturefarms@sbcglobal.net
Web: www.naturefarmsfarriersupply.com


AAPF/IAPF Members: Shelley & Nolan Walker APF
"Nature Farms was established in 1982 in the heart of Oklahoma. April 2009 Nolan & Shelley Walker took the reins as the owners. Nolan brought to the store thirty-five years of farrier experience and a GOAL to provide the very best customer service. Nature Farms is committed to building the Industry by supporting many excellent clinics and we also offer a 5% discount to all active farrier students. In 2009 we established the Reggie Kester Memorial scholarship program for farrier students. Our products are designed to work for you. The Cobra shoeing box line is known worldwide for durability, tool placement, and especially for way it glides across all terrains. We also offer variety of hoof stands including the versatile Combo Stand; which combines the cradle back foot and a front foot stand. We produce a selection of hand tools as well. In 2011 we are introducing several new hoof knives."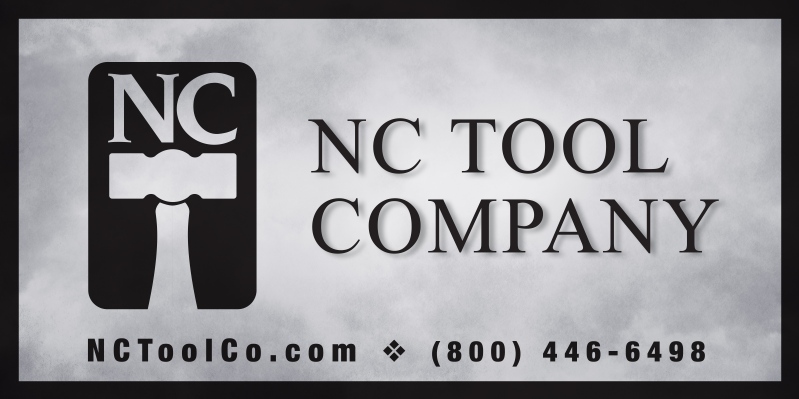 NC TOOL COMPANY INC.
6133 Hunt Road, Pleasant Garden, NC 27313
Toll Free Phone: (800) 446-6498
Phone: (336) 674-5654
Email:

nctool@nctoolco.com


Web:

www.nctoolco.com
AAPF / CAPF Members: René Aldridge & Denise Jones
"Thank you for using NC Tool Company, Inc. as your shoeing supplier. It is you, our Farrier friends, that have helped us to become a leader in the horseshoeing supply and prompt mail order business. We stock close to 2,000 different items in our store for your shoeing needs. However, if there is an item you need that we do not carry, please let us know and we will do our best to locate it for you at a reasonable cost."

NORTHEAST FARRIER SUPPLY
210 Holabird Avenue, Winsted, CT 06098
Toll Free Phone: (866) 333-6337
E-mail:
vin@northeastfarrier.com
Web:
www.northeastfarriersupply.com
AAPF/IAPF Member: Vin Giannetti
"Northeast Farrier Supply, located in the Litchfield Hills of Connecticut, has served New England, New York, New Jersey and Pennsylvania for over 20 years. We carry thousands of Farrier and hoofcare supplies- from a wide selection of
horse shoes
and horseshoeing equipment to our
custom blend horse supplement
specially formulated for the needs of horses in the north east. We provide, at no charge, a delivery service to our full time shoeing customers in Connecticut, Western Massachusetts, and Eastern New York. Please
call for details
and to be added to the schedule."



OLEO ACRES FARRIER SUPPLY


1036 S County Road 21, Berthoud, CO 80513




Phone: (970) 532-3490

or (303) 979-0446
Fax: (303) 979-0420
E-mail:christi@oleoacresfarriersupply.com


Web:

www.oleoacresfarriersupply.com


AAPF/IAPF Members: Bob & Christi & Rob Michel



"Your best source for Farrier Supplies and Equipment in Colorado! We are proud to offer you a large selection of quality farrier supplies and equipment, from Anvils to Welding Compounds and everything in between! Here you can find the name brands and manufacturers you are already familiar with, buy them securely online with our shopping cart and have them shipped right to your door. If you have questions about the items or our service, please don't hesitate to call us at one of Colorado local numbers listed above or at 1-800-994-OLEO (6536)."
"In addition to the Oklahoma State Horseshoeing School, we offer a complete retail horseshoeing supply store that can help equip your every need after you return home or as you start your horseshoeing career. We carry top of the line brands such as: G.E., Delta, St. Croix, Mustad, Diamond, Anvil Brand, FPD, Blurton, Bloom, D.S., NC Tool, Hot Box, Equilox, Equithane, Hall, Jim Keith, Jim Poor, Equine, Kerckhaert, and many others at competitive prices."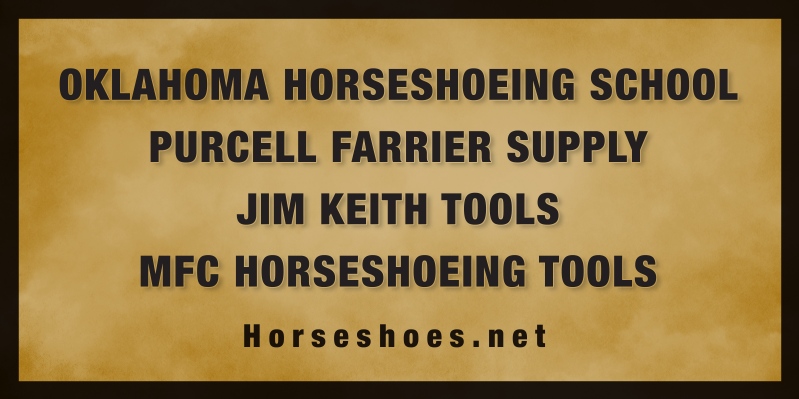 OKLAHOMA HORSESHOEING SCHOOL / PURCELL FARRIER SUPPLY
26446 Horseshoe Circle, Purcell, OK 73080
Phone: (405) 288-6958
Fax: (405) 288-1004
E-mail: purcellfarrier@aol.com
Web: http://store.purcellfarriersupply.com
Facebook: https://www.facebook.com/pages/Purcell-Farrier-Supply/157676530952303
AAPF/IAPF Member: Jack Roth DVM APF CME



OLYMPIA FARRIER SUPPLY
1041 B 85th Avenue SE, Olympia, WA 98501
Phone: (360) 786-6575
E-mail:
olyfarrier@comcast.net
Web:
www.olympiafarriersupply.com
AAPF/IAPF Members: Maxine & Ken Floyd
"

Horses are a part of everyday life for this family. The Floyds are actively involved in 4H and the high school equestrian team through their daughter. Ken and his daughter have started in Mounted Shooting together with their horses. An avid student of the hoof, Ken knows plenty about farrier equipment and hoof supplies. He is fastidious about the products offered by our store, making sure we carry everything a farrier might need, from the common shoe to the specialty product. Maxine knows the inventory through and through. Count on Maxine to help you find the product you need, then promptly ship it to wherever you are. And that inventory is vast. We carry a large selection of farrier equipment, including St. Croix , Kerckhaert, Anvil, and Victory shoes from Werkman 7/O to draft 8. We also stock a full line of Victory, GE/KB, Thoro'bred, Delta and Grand Circuit aluminum horse shoes, and the colored PonyW'air and Easywalker shoes."
"
Palm Beach Farrier Supply, Inc. is located in Wellington, Florida, home to the prestigious Winter Equestrian Festival and International Polo. The store, only 1½ miles east of WEF's show grounds, is open year round. Winter hours are 7am to 5pm Monday to Friday and Saturday 7am to Noon, and summer hours are 7am to 5pm Monday to Friday. PBFS has been open for business under Ms. Joy Ream's ownership since November 2005. Joy has been in the horseshoeing business for over 30 years, and she is proud to offer a professional, personalized and friendly service, making the commitment to provide you with the best service and variety of horse shoeing tools and supplies. Fresh coffee and cookies are always available for our clients/friends to enjoy while making their purchases or when they stop by for a visit."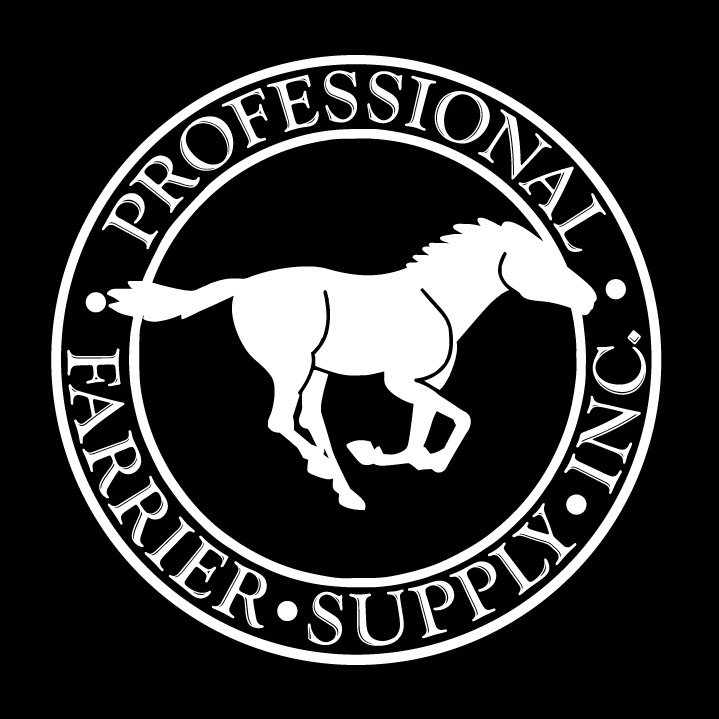 PROFESSIONAL FARRIER SUPPLY INC.
23 Coles Crescent, Mono, Ontario L9W 5W2 CANADA
Phone: (519) 940-4247
Fax: (519) 940-5432
E-mail:
brad@profarriersupply.com
Web:
www.profarriersupply.com
AAPF/CAPF/IAPF Members: Ginny & Brad Davidson CJF APF
"
Professional Farrier Supply Inc. is Canada's leading supplier of horseshoes, farrier tools and hoof care products. We pride ourselves on our extensive in-stock inventory as well as our ability to obtain most any product you may require. We also offer competitive pricing and will gladly ship your order anywhere in the world. Located just east of Orangeville, about 45 minutes outside of Toronto, Canada, Professional Farrier Supply Inc. has been in business for over 30 years. Our staff knows firsthand the many hoof care challenges that you, the professional, will be faced with on a regular basis, as well as the variety of conditions under which you will be using our products. Having accumulated an in-depth product knowledge, our staff will gladly share their experiences to help ensure your success.

Please feel free to forward us any comments, suggestions or questions via our website's contact us page, or call us locally at 519-940-4247 or toll free at 1-800-563-7862. We look forward to hearing from you soon!"
SPANISH LAKE BLACKSMITH SHOP
2793 West Meyer Road, Foristell, MO 63348
Phone: (636) 463-7211
Fax: (636) 887-1825
E-mail:bob@spanishlake.com
Web:www.spanishlake.com
AAPF/IAPF Member: Bob Schantz CJF
"Bob Schantz has been in the farrier industry since 1974. Bob, and his late wife Marleen, have built a solid reputation with local farriers and supply dealers across the country. In 2004, Bob was elected by his peers to the International Horseshoeing Hall of Fame located at Churchill Downs in Louisville, Kentucky.
"

STOCKHOFF'S LLC
2102 Button Lane, LaGrange, KY 40031
Phone: (800) 421-1002 or (502) 222-3960
Fax: (502) 222-5049
E-mail: sales@stockhoffsonline.com
Web: www.stockhoffsonline.com
AAPF/IAPF Member: Molly & Jed Pappas
"Established in 1863, Stockhoff's has been a family business for over 145 years. We pride ourselves on our exceptional customer service and our extensive inventory. Not only do we want to be your supply house of choice, but your business partner as well. You can order here at stockhoffsonline.com, call 1-800-421-1002 toll free, fax your order to 1-502-222-5049, or send an email to sales@stockhoffsonline.com. Please do not include your credit card information on email inquires.If you are interested in a product that is not listed on our website, please contact us. We will do everything we can to locate the item and have it available for you in a timely manner.We understand it is crucial to your business that you have the supplies you need immediately. We ship all orders made before 3:00pm EST the same day."

T.T. DISTRIBUTORS
7715 West Highway 40, Ocala, FL 34482
Phone: (352) 854-0528
Fax: (502) 222-5049
E-mail: customerservice@ttdistributors.com
Web: www.ttdistributors.com
AAPF/IAPF Member: Dana Barber
"T.T. Distributors has provided horse and farrier supplies in Ocala Florida since 1985. We have remained a family owned and operated company and continue to offer our customers with quality products, quality prices and quality service. Our knowledgeable staff is experienced and available to help with any questions you may have. Take a look through our online store and browse our available products. We carry a variety of quality horse health care supplies including horse vitamins in our Ocala, Florida location and ship through our online store. In addition, we have hoof care products as well as horse joint supplements to keep your animal's health at its peak. For your convenience, there is even a selection of dog and cat care products. Call us during our business hours at 352-854-0528 if you need any help finding the animal care product you require. We look forward to earning your business.

Once an order is placed it is immediately processed & shipped. The majority of all orders are processed the same day in which they are received. You can expect to have your order in hand within 2 to 4 working days. Expedited service is available. Pay pal calculates shipping charges to $55.00. For large orders you will receive a separate invoice for the remaining freight balance."

TENNESSEE FARRIER SUPPLY


1050 Harper Lane, Cumberland Furnace, TN 37051




Phone: (614) 464-4575




E-mail:

horseshoes@tnfarriersupply.com


Web:

www.tnfarriersupply.com


AAPF/IAPF Member: Steve Edwards APF, Esther & Laura Edwards
"

Tennesee Farrier Supply began in 1999 as Poor House Farrier Supply. Started in a tiny Tennesse country house by a farrier it has now moved to our current location and has a new name. Steve Edwards, farrier for 30 years is the owner, does order deliveries in the Nashville area. Laura Edwards, our daughter is the store manager, order taker and order shipper, friend, counsellor, mind reader for those who call and say "send me what I usually get". Esther Edwards manages the website and is the family "gopher". William Edwards is the handyman. The other 4 children are the support people that keep the house clean, the meals cooked and the animals cared for. Come by and see us. Our commitment--to treat you like we would like to be treated."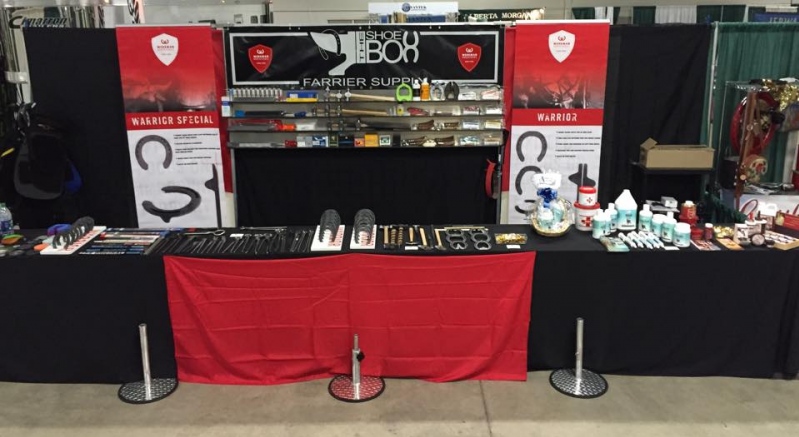 THE SHOE BOX FARRIER SUPPLY
Box 253, Warburg, AB T0C 2T0 Canada
Phone: (780-910-2564
E-mail: theshoeboxfarriersupply@gmail.com
Facebook: https://www.facebook.com/TheShoeBoxFarrierSupply?fref=ts
AAPF/IAPF Member: Chandra Klatt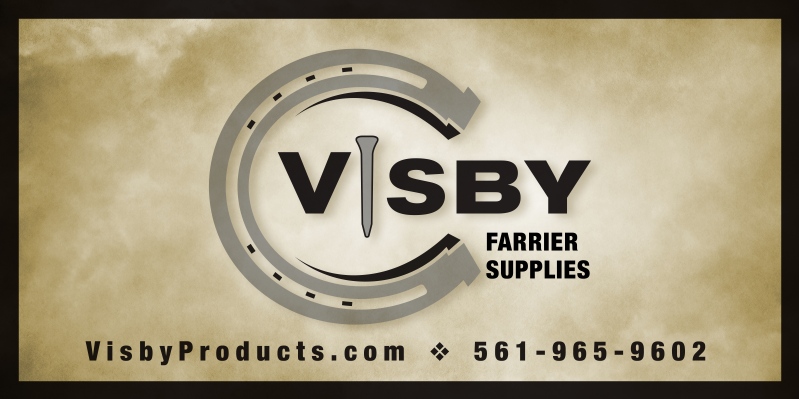 VISBY PRODUCTS
3101 Fairlane Farms Road Suite 6, Wellington, FL 33414
Phone: (561) 965-9602
Fax: (561) 228-1073
E-mail: info@visbyproducts.com
Web: www.visbyproducts.com
AAPF/IAPF Life Members: Grace & Jeff & Diane Gartner

"Our goal is CUSTOMER SATISFACTION! You can find a wide variety of special hammers, nails, files, knives, other tools, and of course, SHOES SHOES SHOES! We are proud to be the largest and oldest farrier supply shop in South Florida. We are located just minutes down the road from the Palm Beach International Equestrian Center, the Palm Beach International Polo Club, the Jim Brandon Equestrian Center and Palm Meadows. All of the brands that you trust and count on to run you business are in stock and waiting for you in the heart of Wellington.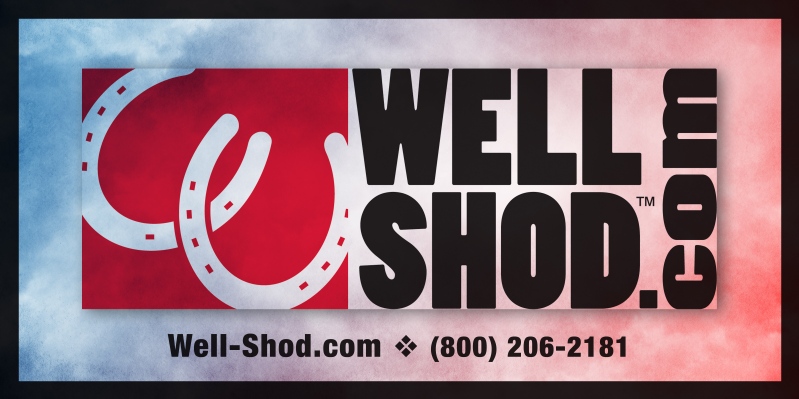 WELL-SHOD.COM




A Division of Ranchers Supply




305 N Arthur Street, Amarillo, TX 79107




Phone: (806) 322-3680 or (800) 206-2181




Fax: (806) 322-3681


E-mail: sales@well-shod.com
Web: www.well-shod.com


AAPF/IAPF Member: John Harshbarger

"Welcome to Well-Shod.com, your home for quality farrier products, great prices and the very best service! Our goal is to provide you with complete information about each product so you can make the best decision about which products are right for you. To help you, we have pictures and descriptions for each item. We invite you to compare our prices, we believe you'll be pleasantly surprised. Well-Shod.com is the internet home of Ranchers & Farmers Supply Co. in Amarillo, Texas. We not only sell farrier products, we also carry a full line of feed, hay, livestock panels, pet food, cage bird seed, animal health products, feed supplements, lawn & garden supplies and much more. Ranchers & Farmers opened in 1961 to provide these services to the community. Not much as changed over the years- the community has just gotten a little bigger."

YODER BLACKSMITH SUPPLIES
8900 Township Road 652, Fredericksburg, OH 44627
Phone: (330) 471-1940
Fax: (330) 698-3200
AAPF/IAPF Member: Henry Yoder