AFJ Robert "Red" Renchin Leadership Award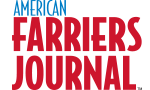 Sponsor:
American Farriers Journal & Lessiter Media
Qualifications:
Recipient must be a current member of IAPF.

Recipient may not be a current member of the IAPF Board of Directors, but may have been a former member of Board.

Recipient must have displayed qualities similar to the exemplary leadership demonstrated by Robert "Red" Renchin CF APF, including:

Well-respected by, and able to work hand-in-hand with, area veterinarians and other farriers on critical horse care cases,

A willingness to share his/her knowledge and train future hoof-care farriers,

A continuing desire to learn more about all aspects of hoof-care and evaluate new techniques in the farrier field,

A willingness to go out of his/her way to help fellow farriers, and

A strong believer in the need for highly effective customer service.
Honorees:
2016 - Robert "Red" Renchin CF APF of Mequon, Wisconsin (Awarded Posthumously)

2017 - Frank Gravlee DVM MS CNS & Linda Gravlee of Cherokee, Alabama

2018 - Robert "Bob" Schantz CJF APF of Foristell, Missouri

2019 - Donald R. Jones CJF APF of Pleasant Garden, North Carolina

2020 - David Birdsall CJF APF of Water Mill, New York

2021 - Joseph Yoder APF of Fredericksburg, Ohio (Awarded Posthumously)

2022 - David D. Farley CF APF-I of Loxahatchee, Florida